Engravables, with samples
---
Engraved Crystal Awards & Gifts: how to order from us
Go to our online catalog here: * Prism Crystal *
The item price listed includes text engraving (price includes one facet of the item only).
Pricing: Price is the suggested retail price as listed if item is $125 or more, else add $40 each item, and each facet. ***Note: that our prices on the higher priced lead crystal is **significantly lower ** than the listed priced. Please check prices with us.
Artwork:

If you have a logo for us to use, that is not already on file with us, the setup of that logo is a one-time-ever cost of $49 (per new logo).
We need vector art for our sandblast etching. If your company has it already, please send it to us. That means a vector file of:

".cdr" (Corel Draw);
".ai" (Adobe Illustrator);
".pdf" (Postscript Doc File);
".eps" (Encapsulated Postscript File).

Please do not imbed non-vector graphics (a bitmap, photo, or raster file) within any of the file formats listed above.
If you have art, but not vector art, you can send us a bitmap file like a ".jpg" or ".bmp", etc. and you will be charged the setup/vectorizing fee ($49).

Use our email link which is at the bottom of every page on this website and send us an email that outlines your order and the date by which you have to have these engraved items. If this date is not doable for us, we will immediately decline on taking this order. (We decline whenever necessary, and have never blown even a single, accepted, agreed upon delivery date in over 20 years.)
We will follow through with an invoice that describes all the items, services, and your payment.
Unless you are an established, repeat customer, we will charge you 50% up front.
We will produce your engraved items.
We will charge you the balance, including shipping & handling right when we ship the items.
---
Engraving Fonts: a few font samples to get ideas from
We have thousands of fonts, but here we illustrate just a few to get you started in describing what you like. You may send us font files if you have a special logo or tag phrase, etc.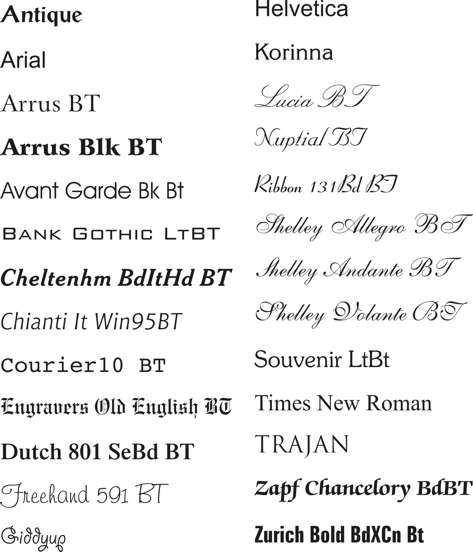 sample fonts for engraving your items
---
Our Past Works: some examples of our engraving
The links on this page bring you to pictures of works that Riordan Artistry has completed at some time or another since its beginning in 1996.
The reason for this section of our web store is that our Online Catalog of Engravagle Blanks does not really give any indication to you, our customer, of what we are capable of.
There are thousands of engravers out there; fewer that can do the superior technique of sandlast etching; still fewer that can do multi-staged carving, and variable-depth carving, as well as sandblast shading on commercially available crystal blanks.
The pictures linked to here will do the rest of our talking for us, and show you that we stand quite a bit apart from the competition.
Many of the works shown are on glass or crystal pieces that we no longer carry in our catalog, because our catalog is always evolving, ...but they still serve to illustrate our craftsmanship. ;-)
Enjoy
~ John O. Riordan, Riordan Artistry, Inc.
Please note that this section is still under construction.)
Corporate
Sports
Military
Love
Animals